December 28th, 2013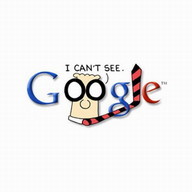 After the authorship apocalypse of recent weeks, I actually looked inside Google Labs to see just what author stats were saying about the content I've self published online. These are not necessarily my best posts, they are not necessarily my most popular posts, they are posts that Google thinks are authoritative or potentially authoritative and thus could do well in their latest greatest search engine algorithm.
I'm not trying to win any popularity contests, I'm not trying to sell any banner ads, I'm just trying to be a little more professional in what I publish online after my epic post-MBA job search. 2013 is coming to a close and I have ambitions for 2014, they don't involve a lot of blogging. This isn't a bad thing, considering I've already blogged far too much. Here are my top 10 posts according to Google's WIP AuthorRank algorithm: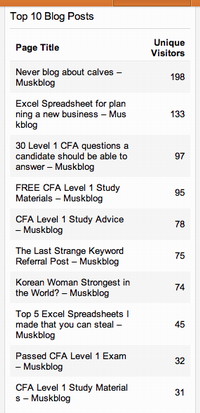 One of the advantages of the Google Authorship system is, it isn't limited to a single domain. Some of those links above are actually on another blog hosted on WordPress.com. If you've studied statistics at all you'd note there is a definite selection bias in the above list. I'm not sure Google's exact timeframe but it is definitely the last month or so, so anything to do with the CFA Level 1 exam was inordinately popular. Just looking at my blog posts here in Google Analytics for the last week shows a different set of most popular blog post.
Popularity ≠ Quality
Social Media has a huge influence on web traffic especially temporary increases in web traffic these days. Google Authorship stats or AuthorRank probably does not consider tweets, pins, likes, etc. but the main Google search algorithm is believed to. Writing for Googlebot is still different than writing for Klout.
If you're looking to take advantage of Google Authorship and the mysterious AuthorRank algorithm, you'd do well to write more content similar to the posts that Google considers authoritative. The two most important qualities to strive for in your writing are still timeliness and timelessness.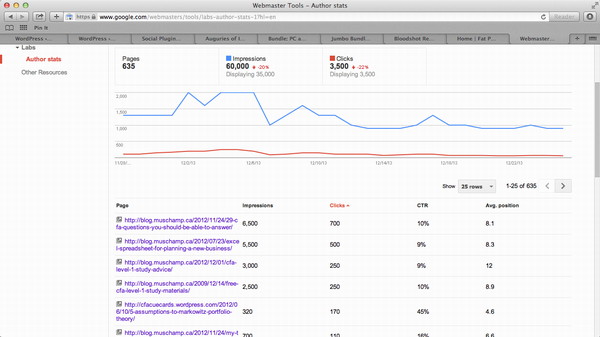 AuthorRank is no longer a big deal
What is a big deal in publishing online is WordPress and I've been using it since 2005. This is another opportunity I did not take advantage of. I'm beginning to think I should never have done an MBA or at least never have left IT. Now I've managed to pass all three CFA® exams but that too has not led to fame and fortune. I can't even find a job at the moment. So with my newfound "free time" I'm updating and improving this blog. I don't know if that will make me popular and it hard for me to be 100% professional online but I think I can improve the Quality, Utility, and even the Economy of my writing.
Brevity may be the soul of wit but the trend in blogging is longer posts that can not be succinctly summarized and tweeted. These longer posts then become anchors or cornerstones of your overall search engine optimization strategy. I've dutifully edited hundreds of posts and repeatedly linked to those I thought were high Quality but my writing is too unfocussed, just like my resume. So if you have any SEO advice you can leave it below.
This entry was originaly posted on , it was last edited on and is filed under: Information Technology and tagged: AuthorRank, Google, Popularity, Quality, Top 10.