October 30th, 2022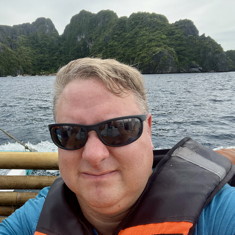 After years of working in Calgary and avoiding Covid I finally decided enough was enough and pressed my boss for two weeks off from our never ending project, then I yielded to pressure or desire to go somewhere off the beaten track, maybe for the last time, and journeyed to what some call the Last Frontier, Palawan in the Philippines.
Of course I had the Lonely Planet but due to the last minute nature of my trip I never got to do everything they recommend you do in two weeks in Palawan. I also had saved up quite a bit of money so as my trip went on I started staying at nicer hotels, though I continued to lug my backpack along and even picked up another patch to sew on to it.
This is actually only my second post of 2022 on Muskblog. It had not been running well on my new webhost and I'd actually been blogging on WordPress.com about miniature painting. But I had continued to update old blog posts and even pruned yet more of them getting down to 687 after yet more attention from trolls and haters. There are definitely more trolls and haters online especially outside the walled garden of private miniature painting forums than there were twenty years ago. The recent attack on the Speaker of the House's house and the purchase of Twitter by an egotistical billionaire further indication that it just isn't worth it to blog about your daily life and personal opinions anymore. The negative minority are ruining the world wide web as rather than create something positive of their own, they focus instead on shitting on the work of others.
The Flight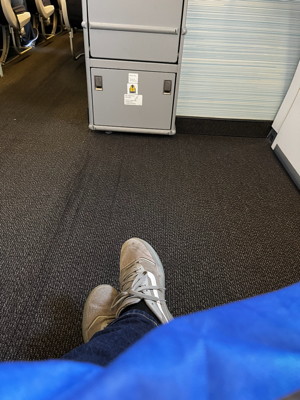 The flight from Calgary to Manila is long and not direct. When I first considered this trip a couple years ago before Covid I was going to fly direct to Tokyo but Japan was slow to open up so I avoided it as well as mainland China and Hong Kong instead going through Seoul and than Taiwan on the way back. Although the flights were long and the layover in Taiwan sucked, I got the emergency escape row on both my trans-Pacific flights so that made things a lot better. I also brought my iPad and Bluetooth headphones though I never needed my iPad on the plane, preferring to use their entertainment system or a good old fashioned book.
Manila
I spent a couple nights in Manila both because it was necessary and my backpack never got transferred from Air Canada to Jeju Airlines. So I wore the same clothes for way over 24 hours and had to visit one of the largest malls in Asia to buy socks, underwear, along with shorts and a t-shirt while I waited for my backpack to finally make it to Manila. I then had to deal with a lot of paperwork and as I had bought insurance I may yet get some money for this inconvenience.
I never made it to Engkanto Brewery but I did get to try their beer after finding a bottle in a store in Coron. That was a regret but Manila is big and you can spend a long time stuck in traffic in a cab. Perhaps I'll get back there someday, but I haven't even visited all the breweries in Calgary yet.
Puerto Princesa, Palawan
The guidebook and my original plan was to go to Coron and take an adventure tour South to El Nido but after not being able to get on that tour, it turned out to be cheaper to fly to Puerto Princesa then work your way North overland. This can result in some long van/bus rides so if I did it all over I'd be tempted to fly directly to El Nido or Coron and stay in one place, one resort rather than trying to see the whole province in two weeks.
Subterranean River National Park
This was not on my must do list and it turned out I had valid fears about going in caves, but this is one of the more famous attractions in Palawan so I did sign up twice for this tour. The first time it was cancelled after we got up at 6 AM or whatever due to rough water, but then we could go to Honda Bay instead and the water was anything but rough, but bays and islands are for sportsmen.
Spelunking
On the way back from Subterranean River our van and likely many other vans of tourists stopped at a roadside attraction which was a zip line but also they had some caves. And this cost extra and I thought I made it clear I did not want to go zip lining or spelunking but somehow I ended up in a cave which of course I got stuck in, so finally I had to drag myself back out of there picking up a few scars in the process. I definitely need to lose some weight but even if I was in peak physical shape I'm not sure I would have fit through that crevice and I definitely don't want to go zip lining.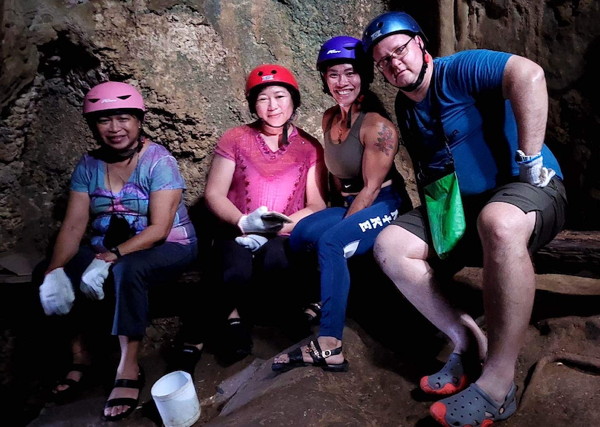 Honda Bay
There are a lot of famous beaches and islands in Palawan. I never got to see them all, but I did do several island hopping day tours. Some of them were better than others and some beaches and islands were more crowded or the weather was less than sunshine and calm seas. Honda Bay isn't usually on the must do list, but it turned out pretty good, but there are more famous islands and beaches in Northern Palawan near El Nido and Coron.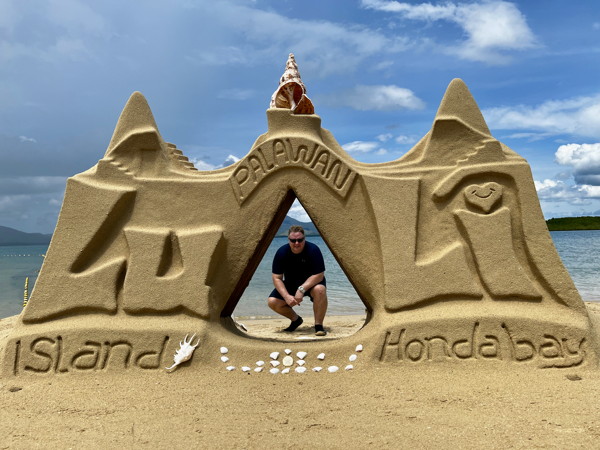 Long Beach, San Vicente, Palawan
The longest white sand beach in the Philippines is in Palawan. It looks like it is on the way between Puerto Princesa and El Nido and as the crow flies it is, but as local transit goes it is not necessarily that simple. So although I did stay just one night at the one resort on the biggest section of beach, I had to basically charter a private car to continue on up the road three hours. I probably was not the only person to discover that local semi-public transport can let you down in Palawan, as the front desk knew who to call and how much I would have to pay.
The Lonely Planet actually recommends chartering an entire boat rather than sign up for daily group tours as the cost isn't that prohibitive and you can leave earlier and beat the rush resulting in less people on the beaches and in the lagoons. But with the exception of the "A" tour in El Nino this was not a major problem while I was traveling as my photos reveal.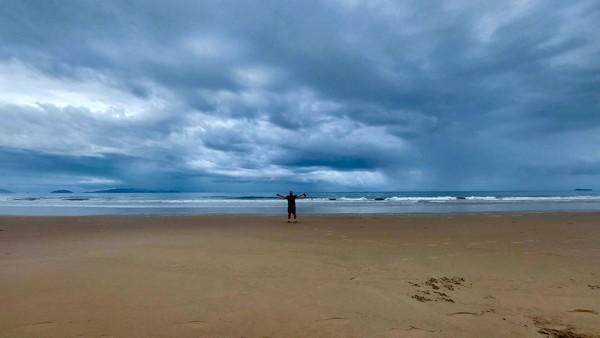 El Nido, Palawan
This is where most people go in Palawan. You can fly directly here from Manila. There are upscale resorts including the most exclusive one in the entire country. I never stayed there, but I did stay at the El Nido Garden Resort which was at the end of the El Nido beach and worked out fine for me, but I can see the appeal of staying in a private resort on a private island and might have to do it someday.
ABC Tours
In the lobby of my hotel in Puerto Princesa and El Nido I could book day tours, these are a bit shit upon by the Lonely Planet but honestly they are not bad. Of course if you have more money and more time you can plan to take more exclusive tours and I did later in the trip, but it is also hard to be in the exact spot at the exact time, so sometimes you have to take the tour that is available most readily especially given that weather can be unpredictable.
I only did the A tour of El Nido but then due to weather did not get to go to one of the most desirable locations, we went to Seven Commando Beach instead and this is just around the point from El Nido itself and was the most crowded and least desirable beach we went to. Our boat was also among the last to leave and thus arrive as I think they were debating whether to make the run to Secret Lagoon or Secret Beach or wherever we didn't end up getting to go that was on the A List.
Again if I could do it all over I would have bought my own full face snorkelling mask. You can of course rent them and the one I got in Honda Bay was nice and fit well and wasn't all scratched up. The other rental masks I got in El Nido and Coron fit less well. The other thing I didn't even think of bringing/buying/renting was a GoPro with a floating wand. If you're only going to one of the most famous beaches in the world once for two hours, you want photos.
I did have my iPhone Mini 13 which is fairly water resistant but I kept it out of the water and didn't chance one of the "water proof phone cases" they sell to tourists. Others did so I ended up with some photos from fellow travellers, but I met a French couple that had two camera phones die on them, so they got some of my iPhone Mini 13 pictures of El Nino. I also took my "big" camera a Panasonic DMC-GM1 but generally used the iPhone. I've taken some grief in Calgary for not spending enough time on my photos of miniatures and beer, so during this trip I actually learned how to use my iPhone camera better and of course photos look better with additional processing, even if it is just the magic wand button.
So you can leave your photo criticism below in the comments.
Coron Island, Palawan
Coron is less touristy than El Nido and where I finally hooked up with one of the tour groups recommended by the Lonely Planet, but of course I was a day late, because after booking the tour, it turns out the ferry doesn't run on Monday. I was pretty fed up as the tour organizer had told me when and where to be, but they didn't check that there was a ferry to actually catch on Monday from El Nino to Coron. So I had to get more cash from the bank machine, 10,000 pesos at a time, as lots of places including the El Nido Garden Resort don't take credit cards.
The ferry itself also left late. The security was surprisingly tight, several Filipino gentleman had handguns they just "left" in their bags and tried to put through the scanner. These were then wrapped in newspaper and they got them back later. A few tourists had their knifes similarly confiscated but my Swiss Army Knife must have been small enough to not be a threat. The ferry itself also took longer than Lonely Planet said it would take. There is an even slower option, but as it was it was a three movie journey and one of the movies was "The Hateful Eight" which was already partly over when our boat got underway and horribly subtitled.
So we arrived in Coron at night and the first thing you do is pay a fee. In addition to the tour operators there are lots of fees to go in parks, on islands, or in caves and lagoons. So upon arriving on Coron Island I think I had to immediately pay 250 pesos. Then there was a trike driver waiting for "Andrew McKay". I had a driver waiting when I arrived in Manila too, which I probably overpaid for, but a lot of other travellers wondered who "Andrew McKay" was and why he had the foresight to have someone waiting for him at night in Coron.
Calamiane Islands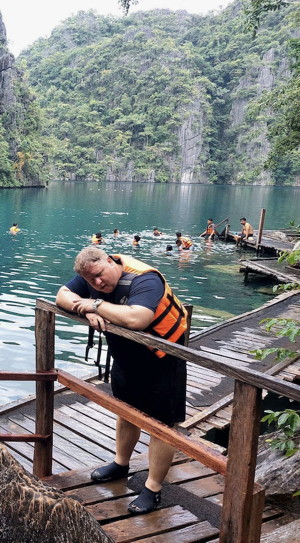 The most recommended tour company is Tao but they were booked so another Lonely Planet recommends is Calamianes Expeditions Ecotours and they are definitely a step up from the ABC tours. There are less people on the boat and the guide probably gives you more personal attention, especially if there are literally two people on your tour. The food may have also been better and there was way more than two people could eat.
I didn't do a full on adventure tour, no mountain biking like I did Yangshuo, which was probably wise in hindsight as just the regular ABC tours can be hard on your body. I had one day maybe where I wasn't traveling or on a tour. I've never swam so much in years, I also kayaked for the first time I think ever, and I picked up several scars especially from when I was dragged spelunking.
The tours I think I ended up going on were the Coron Island Ecotour and for that we had the best weather at least for most of the tour and the best snorkelling. This is why you may want to invest in your own mask, booties, and GoPro. I recommend booties over fins as you have to literally hike to get to some of the secluded swimming spots. The other tour I think I was on is called Expeditions Island Escape which is when we went to the sandbar which I kayaked around in the rain, but when the rain finally ended, resulted in some good photos, including the one seen above.
Back to Manila then Canada
I don't know if there are daily flights but you can fly to most places in Palawan now, so riding in vans for six hours or on ferries for six hours may not be optimal if you have the money to fly. That super exclusive resort I think has it's own planes like Fantasy Island.
Of course I shared some photos on Facebook, but I got more photos that were taken by fellow travellers or the guides, that is a big part of paying for a tour guide, they take your photo in these exotic locales but as you can see, as my travels went on I got more and more beat up, then I caught a cold or worse in the rain on a boat. I'm still trying to get over it, but I did edit and crop hundreds of photos and put the best on Flickr so now I took the time to finally update this blog.
Getting my webhost to finally make it so this blog runs better, I think the database needed re-indexing or something and I couldn't FTP with Transmit but then I gave them 45 more dollars and now I can upload files more easily, so to spite the haters and trolls I may post more, but it just takes so much time and effort and there are other things I want to do in my life besides blog.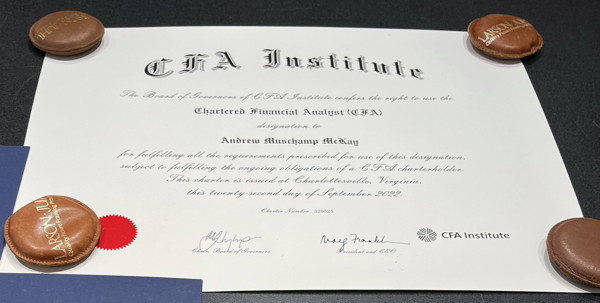 Andrew McKay, CFA®
One of the impetuses for this trip was to try and celebrate finally completing the CFA Charter. I actually received the paper when I got back, so I'm getting it framed, but it took too long, and I definitely had to make a lot of sacrifices. It probably wasn't worth it, because things like travel got delayed for years as I spent my vacation days studying for exams. In 2023 I hope to travel more, who knows I may even visit Asia again, as originally I wanted to see Tokyo on my way to the Philippines.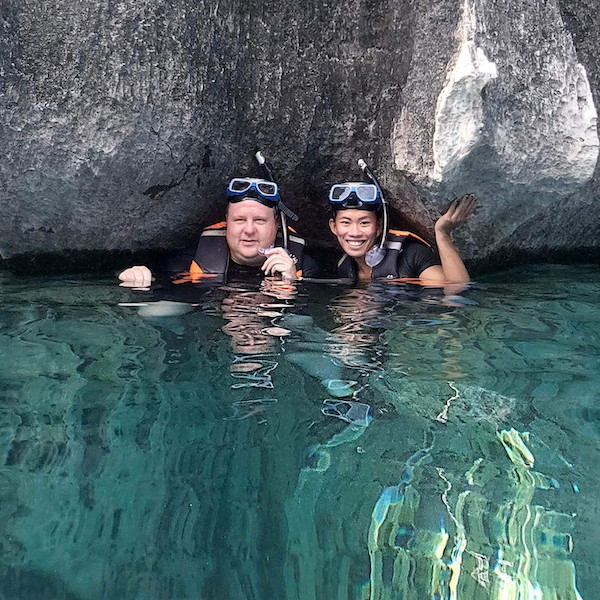 The most important part of travel is the people you meet along the way. I wish I was less rushed, I did get to have a craft beer in Palawan, even El Nido has a brewery, so I shared pictures on Untappd as well, but now I'm sharing even more along with some links. I'm far from an expert on the Philippines or Palawan but if you have any respectful comments or questions you can leave them below.
This entry was originaly posted on , it was last edited on and is filed under: Asia and tagged: Palawan, The Philippines, Travel.