February 10th, 2006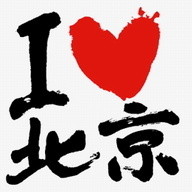 I finally went to the National Museum of China. It has been on my ta-do list for months. I went alone during the Chinese New Year. It wasn't that busy.
I didn't have much enthusiasm. I think I'm museum'ed out. I've seen the one in Beijing, Shanghai, Nanjing, and Xi'an. Shanghai is the best. Beijing is the most intimidating. There were armed guards at the door. I had to check my backpack which they scanned before they let me even lock it in a locker.
The Beijing museum was possibly under construction or renovation. As a result it wasn't very well organized. They did have a suit of jade burial armor which I also saw in Nanjing. In Nanjing I thought it was the coolest thing and likely took a picture. I also looked into buying a book to explain it better.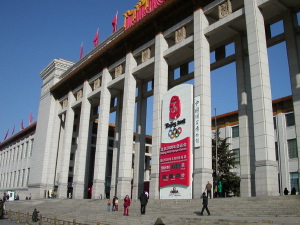 As there were two of these suits in the Beijing museum alone it cheapened it for me. They still look cool and I'd show a picture but I checked my camera and bag in Beijing and all my photos from Nanjing are on a dead fake SanDisk memory card. At least SanDisk is now saying it is a fake. I bought it in Shanghai and I've always bought SanDisk stuff. It came in a SanDisk box with a SanDisk warranty registration card. I need to remind them I'm unhappy. I guess blogging about it, is a start.
In the museum I met someone I knew. This proves two things, one I know people in Beijing and two that not all Chinese people look alike. I recognized them and not vice-versa. They were initially surprised when I walked up and said 你好. As I mentioned earlier I wasn't in a very good mood, but I started feeling a little better after I bumped into someone from Tsinghua.
I enjoyed the pottery and it is Julia who loves ceramics. There were a pile of ceramics in the Nanjing museum which apparently isn't Julia's favourite city. There were also a large display of life like wax figurines. These were very popular with the locals. Many posed for pictures with the first Qin emperor.
There were some foreigners. I saw Marx and Lenin and one other philosopher. In the second room there were less revolutionary heros and more celebrities, Beckham, Marilyn Monroe, and Bill Gates. Bill Gates wasn't very well done. There was at least on Canadian, Dr. Norman Bethune who is very famous inside China. Almost every Chinese person I meet mentions him when I tell them I'm from Canada.
Another Canadian fool always helping people.
After the museum I went to Wang Fu Jing. It seems I used to go to Wang Fu Jing all the time, but I hadn't been in months. It is an upscale shopping district. Oriental Plaza has all the brands of clothing I don't care about back in the West, should you want them. It also has food. Anywhere in modern, big city China, you can always find a KFC and that is where I ate. After talking with the people I shared my table with I set out to find a Starbucks. I swear there used to be two Starbucks in Oriental Plaza but things have changed a bit.
I then decided to go to the Foreign Language Bookstore which was my real destination. I decided to buy a magazine, The Economist, which is my preferred magazine in Asia. I had time to kill so I also did some browsing. I ended up buying two small books. I resisted buying the big thick hardcover edition of "Collapse" by the author of "Guns, Germs, and Steel".
I bought a book by a Chinese author as I believe in reading books from a country other than guide books. It is called "Shifu, You'll do anything for a laugh". It is a collection of short stories. I thought it might be suitable for reading while in transit. I also bought another book by Nietzsche as I felt I was due for another dose. "Beyond Good and Evil" cost 21 RMB, The Economist 55 RMB and the slim volume of short stories 107 RMB! I only found that out at the register. However I feel it says a lot about the reading habits of English speakers in Beijing.
Eventually I found out where the Starbucks had relocated. It is now on the Sky Level, which is basically the roof. It didn't have WiFi so it was all for not, I had to come back to Wu Dao Kou to check my email and update my blog.
Although it was a cold day, it was sunny so here is a picture I took outside the museum.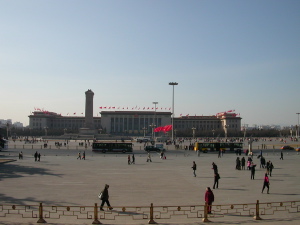 I ended up living in China again and wrote many more blog posts. This necessitated compiling the best of the best and updating all my old posts in the name of search engine optimization and online personal branding.
This entry was originaly posted on , it was last edited on and is filed under: Asia and tagged: Beijing, China, Literature, Tiananmen Square, Wang Fu Jing.