April 21st, 2009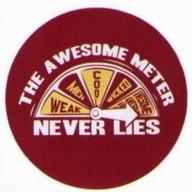 Some self appointed blogging expert stated that websurfers like top ten postings, so I've posted a few. Then not long ago I thought about doing a Top 10 list of Top 10 postings. Since I've upgraded my WordPress install I was able to make a 'tag', so that these postings would be easier to find in the future.
I've even updated this list on February 12th, 2012 to be more up to date.
This entry was originaly posted on , it was last edited on and is filed under: The Good, The Bad, & The Ugly and tagged: Blogging, Top 10.