November 29th, 2010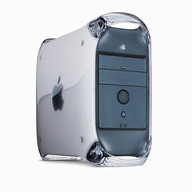 As mentioned previously I got the impulse to buy a "new" (old) video card. It was suppose to make my G4 tower run the newer Mac OS X faster. I'm not sure it mattered but I just completed this my latest upgrade. It went super smooth. I even took a couple pictures.
In the last 15 months I spent over 1000 dollars upgrading an old computer from 2001 which I basically just use for playing music. Not the best use of my limited supply of money. Perhaps I should have just bought a Mac mini. It would run quieter and quicker I imagine. Of course my old G4 (Loretta) has sentimental value after all it was the world's first personal super computer and my first Mac.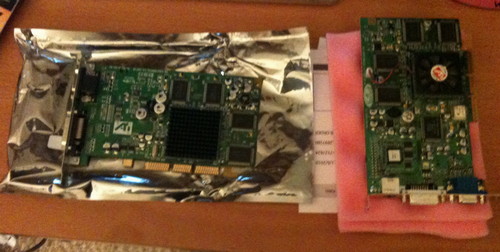 I ran Xbench but I couldn't submit my result for some reason I think the latest score for this box was 24.55 whatever that means. Apparently the average score is 31.75 for this type of machine, I couldn't find my previous test results. I've upgraded this machine several times. More RAM, bigger faster hard drive, even more RAM, Radeon graphics card, CPU upgrade, even bigger and faster hard drive, plus various PCI cards, and now a Radeon 7500 with 32MB of RAM. I couldn't even increase the resolution after this as I'm using a VGA cord to a television. Oh well I did it so it wouldn't stutter doing music playback and simultaneous WiFi usage. I haven't tried WiFi since the upgrade, I still want to get a Time Capsule as lord knows I need another hard drive.
I did get eventually buy a Time Capsule as I wanted to further automate and improve my backup system and add true wireless networking to my life.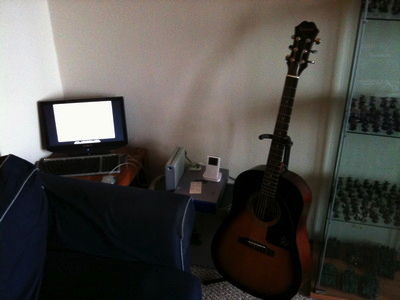 I dug up another picture or two of how things are or were. Time passes funny, it seems like I just upgraded this Mac but it was before the Olympics and it seems I've been at this apartment in East Van for years…
G4 Power Mac: The World's First Personal Super Computer
Today I had to the extol the virtues of this very Power Mac G4 to a co-op student I now work with. There are so many features on this computer you just don't find now-a-days on consumer computers, from the pulsing button while it sleeps, to the reset and programmer's button, to the fact it can act as a WiFi router, that I can control it from my iPhone, or that it still in theory boots into OS 9, to all the vast empty hard drive space that I'll never need.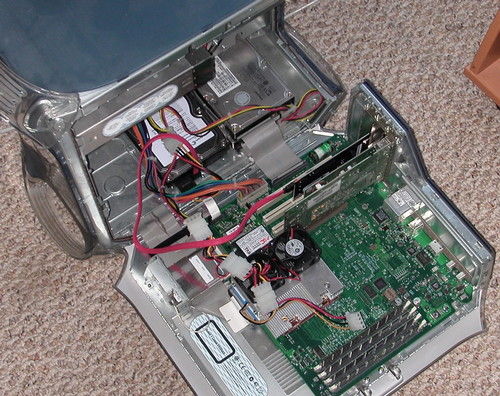 In reality it is the world's most expensive iPod charging and synching station. I do have it hooked up to my stereo / home theatre, but seeing as I'm still waiting for my MBA and the CFA® Program to actually payoff, my home theatre hasn't really been upgraded since my days as a WebObjects developer. I'm using a borrowed TV, which should really be mounted on the wall.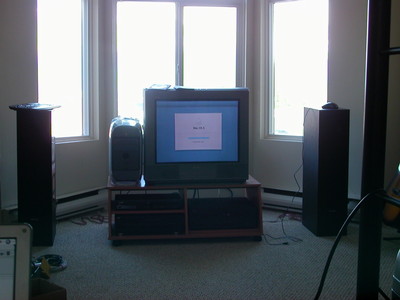 I will add a Blu-ray player as my almost ten years old DVD player seems to have trouble playing my personal DVD collection. I'll probably get my Wii back and maybe even a PS4, but I just don't spend a lot of time in the living room, my roommate spends even less, so my beloved PowerMac G4 charges my iPod Shuffle and makes sure the smart playlist is synched with any other 'plays' I make using iTunes Match, which isn't perfect, but is still pretty cool.
I'll have to have guests over at some point, but I don't even know who to invite anymore, I haven't even hung anything on the walls at this apartment. Much of my life is still in storage where it has been since I moved out of my previous apartment where most of these photos were taken.
If you have nostalgia for the old Power Mac's here is a review of this exact computer when it came out. I think I paid $1999 Canadian plus the cost of the matching Apple monitor. I know I had to get my credit card limit increased to buy this computer from Simply. I've since upgraded it many times. About the only original parts are the case, motherboard, and the original 10 Gb hard drive is still functioning, though I now boot off the big empty drive I can't use to backup to with Time Machine.
I wish it was still silent, but I'm glad it still has the old iTunes UI. I'm tempted to replace it as my home theatre PC with a newer Mac Mini or most likely an Apple TV the newest of which do 4K video. I still see the value of an optical drive, look at all the CDs and DVDs I still have never ripped all those. Someday I want to get a phono stage with a USB port and rip some of my vinyl. I don't mind buying tracks on iTunes, but some albums likely never will be made available digitally.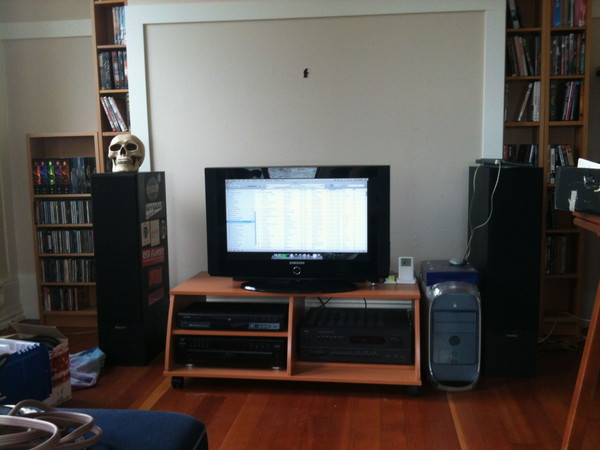 It is now many years later, this computer was in storage along with all my furniture. I've been living in China. I made a lot of sacrifices, too many, but I finally passed all three CFA® exams. However, once again I ended up unemployed for several months. So in an effort to leverage my blog more I edited every single old blog post, but it makes me sad reading all I've gone through and knowing how much time and money I've wasted.
I was mainly using my iPhone SE to play back music on Bluetooth headphones in the gym. I did listen to music on my MacBook Pro while studying in China. I still use iTunes Match but all the songs I ripped before I boxed up my CD collection did not get approved. Apple told me I needed to reconnect the G4 PowerMac to the Internet, I told them it was in storage back in Canada.
I finally got this system out of storage in 2019 and it booted up and eventually I got it hooked up to the stereo but it is just too loud to be a digital jukebox. I finally ordered a new TV, the Samsung UN50NU7100 which supports AirPlay2 which the review neglects but may eliminate the need for an Apple TV.  Eventually I will take some new pictures and maybe even make a new blog post. I'm still using lots of vintage hardware, but I'm tired of trying to make it work as well as a smaller cheaper newer technology would.
One upgrade I did that I could leverage more is I added a PCI card which supports USB 2.0. I have a few FireWire 800 devices which I could hook up to my MacBook Pro but that too needs replacing promptly. I can also hook hard drives and a USB hub to my Time Capsule to increase the space I have available for backups, I've had emergencies. I found four different external hard drives all of which support at least USB 2.0 some support FireWire and even FireWire 800.
The M-Audio Transit is finicky but my 2003 NAD receiver and even older speakers still sound good. I am even thinking of adding an SVS Subwoofer finally because it will fit in the space I have available, but I fear that may upset the neighbours. I've put up with a lot I don't listen to much music and I watch maybe one DVD or two a week. I'm tired of not living my best life. If you have audio or video or computer advice you can leave it below.
This entry was originaly posted on , it was last edited on and is filed under: Information Technology and tagged: Apple, CPU, Hard Drive.