November 9th, 2006
With all my recent readings on Excel I figured I should make something that didn't have anything to do with my hockey pool. So I decided to make an easy to use spreadsheet for valuing a company, determining how large of investment results in what percentage of ownership, shares to issue, share price, etc.
If you want to skip right to downloading my spreadsheet, go ahead.
It should go without saying if you download a Microsoft Excel file from my website, upload it to another website and claim it as your own work, I will find out, and I will take action.
After completing my MBA studies at the Sauder School of Business I somehow ended up in the CFA® Program, I even managed to successfully pass all the exams. You can view my resume if you are curious.
Recently on Twitter was a post about valuing startups 9 different ways. That is six more ways than I did in the spreadsheet I made. However the custom Microsoft Excel spreadsheet complete with VBA code is available to download above, just do not claim it as your intellectual property or resell it, doubly so if you are a CFA Candidate or Charterholder.
If you want to know more about valuing a startup, you should check out this post on Funders & Founders.
If you would like some explanation on valuing a company and selling a portion to investors (especially VCs) I recommend a portion of the Strategis.gc.ca website, particularly this section. My spreadsheet implements the classic VC method as defined in Jeffry Timmons' book. It now also implements two discounted cash flow valuations one with linear growth and one with exponential growth.
I also implemented a version of the First Chicago Method. My implementation relies on accessing the likelihood of three scenarios and assigning a percentage of the original market size estimate that is to be captured in each scenario.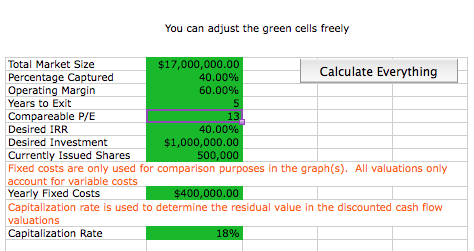 The final portion of the spreadsheet contains some simple VBA macros that make use of Goal Seek to determine the requirements to achieve a specific IRR, investment size, and maintain a certain percentage of ownership under the classic VC method.
The spreadsheet makes use of a large number of worksheets and defined names for cells to make it hopefully easy to understand. The spreadsheet makes use of a few tips and tricks from the book "Analyzing Business Data with Excel". One convention I use is cells with green backgrounds can be changed to allow for "what if" analysis. Orange cells are changed by VBA macros. Green for go, orange for caution.
The Excel spreadsheet contains the following worksheets:
Input: for inputting all the values needed for the classic VC valuation method
Valuations: shows the PV, shares to issue, and share price using the four different methods on one worksheet
Classic VC: Estimates PV of the company, shares to issue and their price
First Chicago: Re-estimates the PV of the company, and recalculates shares to issue and their price.
DCF: uses a discounted cash flow calculation with a linear growth in market share
Break-even: this is a simple line graph that shows yearly income and yearly fixed costs including the break even point for the linear discounted cash flows
DCF2: uses a discounted cash flow calculation with an exponential growth in market share
BreakEven2: this is another simple line graph that shows the yearly income and the yearly fixed costs including the break-even point for the exponential discounted cash flows
Solve for IRR: contains a macro to solve for a particular IRR
Solve for Investment: contains a macro to solve for a particular investment size
Founder Control: contains a macro to solve for maintaining a certain percentage of the company owned by the founders
Workarea: interim calculations
Hopefully this is of use to someone. It should be noted there is absolutely no warranty or guarantee with these calculations. I did test them many times and check them by hand with a calculator. I made the spreadsheet using Office for Mac 2004 but it should work on most other versions. There are four macros, most of the spreadsheet will work without them if you are feeling paranoid. The discounted cash flow valuations are done almost entirely with VBA so that portion of the spreadsheet won't work without macros enabled.
Although I provided some rough break-even analysis to do it properly you need a more detailed cost structure and likely a monthly model. I eventually made several more spreadsheets that are of use to entrepreneurs and would-be venture capitalists. You can of course leave questions and comments below.
This entry was originaly posted on , it was last edited on and is filed under: Finance and tagged: Microsoft Excel, Spreadsheet, Valuation, Venture Capital.